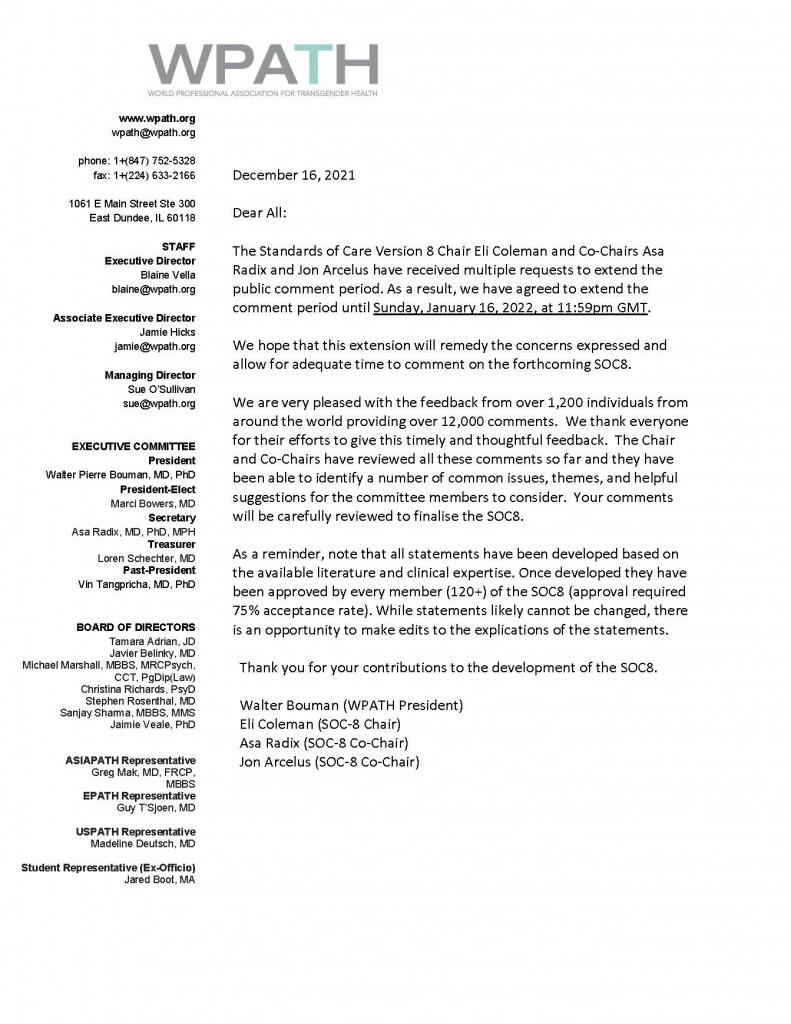 Please note that this document is WPATH property and is being disseminated for public comment only, it is not to be copied or distributed. The final document will include an introduction, methodology section, several appendices, and supplementary information. More information is available on the SOC8 revision process on the WPATH website at https://www.wpath.org/soc8.
Your comments will be reviewed to shape the SOC8. Please note that all statements have been developed based on the available literature and clinical expertise. Once developed they have been approved by every member (120+) of the SOC8 (approval required 75% acceptance rate). While statements likely cannot be changed, there is more opportunity to make edits to the explications of the statements. Please include any comments to the draft of the SOC8 in general or to the statements and these will be carefully considered.
Please note that the titles of each chapter have not been finalised.
By clicking the links below, you will be taken to the survey for each chapter, within the preamble of each survey is the link to the draft version of that chapter. Return to this document to review other chapters and follow the same process.
DEADLINE EXTENDED TO JANUARY 16, 2022 AT 11:59PM GMT
| | |
| --- | --- |
| Chapter Name | Survey Monkey Link |
| Adolescent | |
| Assessment | |
| Child | |
| Education | |
| Epidemiology | |
| Ethics | |
| Eunuch | |
| Global | |
| Hormone Therapy | |
| Institutions | |
| Intersex | |
| Mental Health | |
| Nonbinary | |
| Primary Care | |
| Reproductive Health | |
| Sexual Health | |
| Surgery | |
| Terminology | |
| Voice | |